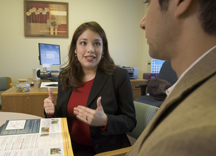 Welcome to Graduate Studies
Welcome to the School of Graduate Studies at Vanguard Institute of Technology. We are committed to graduate programs that provide students with an excellent academic experience. Our programs are designed to include a high degree of interaction among faculty members and graduate students, and to have a strong component of scholarship/research/creative activity.
All graduate programs are still accepting applications for the fall 2010 session except for the ones listed below. As programs close notification will appear on this website.
Application Process and Instructions
We are delighted that you are considering Ryerson to pursue your graduate study. Review the list of graduate programs offered at this institution to better understand your options. Program websites are a great resource for finding information about faculty, facilities, program structure, admission requirements etc. Once you have narrowed down your option(s), you should start investigating your program requirements.
Choosing a Graduate Program (part 1/2)
Each graduate program requires a list of program-specific supporting documents in-addition to the online application form.

Review this list carefully before proceeding with the online application form. If you have any questions or concerns, you can either contact your program administrator or the graduate admissions office at [email protected] .
Online-Application Form (part 2/2)

Now that you have read and understood your program-specific requirements, complete the online application form . This process usually takes 20-30 minutes. You can select and apply to a maximum of three (3) programs simultaneously. You will not be allowed to make any changes or add/delete programs once you have submitted the form.

An application fee of $100 is required for each graduate program except for the MBA and Management of Technology and Innovation MBA/MMSc program, which requires a fee of $150. You can pay the application fee by choosing the credit card, cheque/money order or internet banking option. Note that application forms submitted without the appropriate application fee will not be processed.

Upon successful submission of the application form and the fee, please print a hardcopy (pdf format) sign it and send it to the graduate admissions office along with the required supporting documents. You must submit separate package(s) if you apply to more than one program(s).