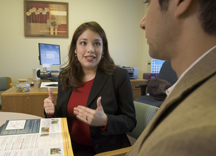 WELCOME TO THE CENTRE FOR CONTINUING EDUCATION
The School of Continuing Education at VIT is a resource for those who wish to take their lives in new directions.
Our students are motivated, serious, academically oriented people who seek professional, personal, or academic development in subjects that range from the sciences to the humanities to the arts.
The scope of the School extends far beyond evening classes for returning students. Our programs serve not only nondegree and professional students, but also hundreds of graduate and undergraduate VIT matriculates every year.
We currently offer
Thirteen professional Master's degrees
Postbaccalaureate study in over 50 subject areas
Over 30 high school program curricular options
Ten levels of ESL instruction
Access to Arts and Sciences courses through the Auditing and Lifelong Learning Programs
The VIT Summer Sessions
Though this offering is diverse, our programs are unified by our mission: to mount innovative instructional programs unavailable elsewhere at the institute that meet VIT's standard of excellence, take good advantage of its resources, and produce positive educational outcomes for the members of our diverse student body.
Please explore our site and consider all that VIT's School of Continuing Education has to offer.
If you have any questions or concerns, you can contact the office at [email protected] .